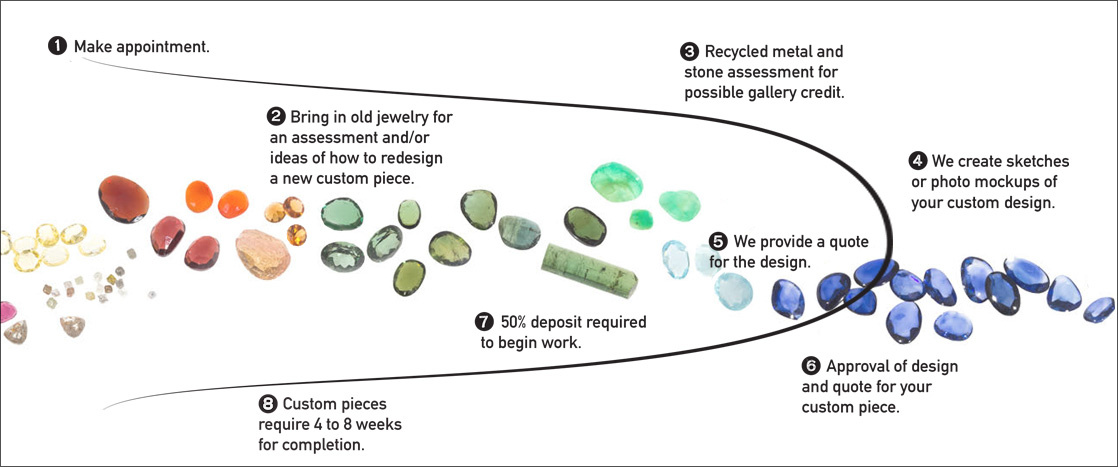 Custom Designed Jewelry & Engagement Rings for Berkeley, San Francisco, Oakland, CA


Shibumi Gallery and its artists are happy to work with you to create a custom engagement ring or a beautiful piece of jewelry to add to your collection.

With our experienced designers we can base the design off a piece by one of our Artists or pieces from April Higashi's Portfolio to create something within our aesthetic or with any of the artists we represent.

We keep a wide selection of stones in stock or can source stones to most specifications. Custom pieces can also be created using your family heirloom stones. If the stone(s) is already set, upon inspection of the metal, we can sometimes use the existing gold or platinum to create a new piece or apply the value to a credit.

Our in-house custom design process begins with talking with you about your ideas. From there we provide you with drawings, metal choices and gemstones, or work with your own drawings, images or ideas.

The time frame for each piece and each artist varies but generally custom work requires 4-8 weeks for completion. If you have concerns regarding the timing, please contact us to discuss and we will try our best to accommodate your time frame.

Once the project is designed and approved, a 50% deposit is required to begin.
Deposits can not be refunded.
Custom designs which include stones sourced specifically for your project require full payment of the stone as well as the 50% deposit to begin.

Please note there are no returns on custom work.

If you are interested in commissioning a custom piece of artisan, hand-crafted jewelry, please Contact us and will respond within 2-3 days with a few questions for you to answer to help give us an idea of your project.

Thank you for your interest in Shibumi Gallery and our custom work. 
Below are some recent projects that show how pieces in our studio are made.